5 Ideas For a Country Themed Party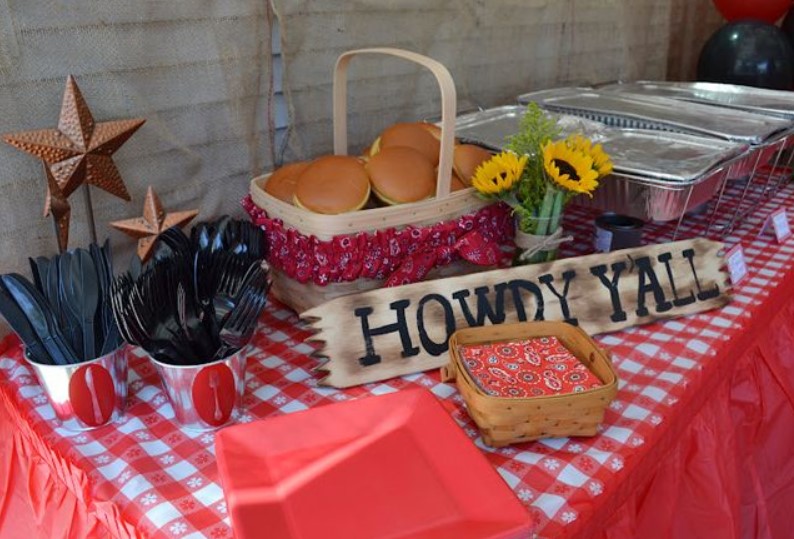 Out of ideas for your birthday party? Or perhaps you want to spice up a bachelorette outing. A country theme is a fun way to celebrate rural roots or find your inner cowgirl.
Mason Jar Party Favors
Squares cut from festive cloth can be placed under the lid rings to fancy them up. You can fill them with candy, popped corn, baked goods, or other favors. If you still have a shelf full of preserves from canning season this is a great way to share your bounty—and surreptitiously free up some pantry space for next year.
Dress Up
It's very hard to mess up a country-themed outfit. A flannel shirt, denim skirt, cowboy hat and boots are all you need. If you're feeling particularly adventurous, pick a country singer and take inspiration from their most iconic looks.
Fun and Games
It wouldn't be a real country party without line dancing. If you've chosen to dress up as country singers, karaoke might enhance the experience. With the right group of players, card games like Texas Hold 'Em and Gin Rummy can last the entire party!
Fair Foods and Home Cooking
For refreshments, you could take a page from the county fair. If you don't feel like shooting whiskey, lemonade is a crowd favorite. Loosen up your country girl belts for funnel cakes, blooming onions, and fried pickles! For the main course, you can serve barbeque with sides like grits, hush puppies, okra, or collared greens.
Rustic Style
Haybales and dried cornstalks might look kitschy, but they aren't always available. However, if you pop down to your local fabric store, you are guaranteed to find loads of paisley, burlap, and twine. You can make streamers and curtains, or stay simple and put burlap table runner over a lace table cloth, creating a beautiful juxtaposition of rugged and delicate fabrics.
Remember, just because it's country, it doesn't mean it can't be classy.
Related Posts